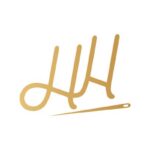 Eleanor Hanna
Member since 7 months ago
About
The Hanna Hats story began in 1921 when David Hanna cycled over 100 miles from Belfast to Donegal with the hopes of securing an apprenticeship with McDaid's Tailors in Donegal Town. David was successful and after a few short years Hanna Hats, as we know it today, was established in 1924. David initially focused on tailoring suits, and then by chance he discovered a particular interest and flair for headwear. The company evolved to specialise in designing and creating handcrafted hats and caps.

John Joseph Hanna joined the business with his three brothers in 1964. John had a passion for beautiful fabrics, customer service, and upholding the impeccable quality standards set by his father.

Today you'll find John's children, Eleanor and John Patrick, fulfilling this legacy as they continue to create timeless headwear pieces and accessories in their Donegal Town workshop. They continue to hold dear their craft, community, customers, original designs, innovation, natural fabrics, and high-quality standard set by their father John and his father David before him.
Contact Info
Tirconaill Street, Donegal Town, Co. Donegal, Ireland, F94 P028
Hanna Hats of Donegal Ltd, Tirchonaill Street, Milltown, Donegal, Co. Donegal, F94 P028, Ireland