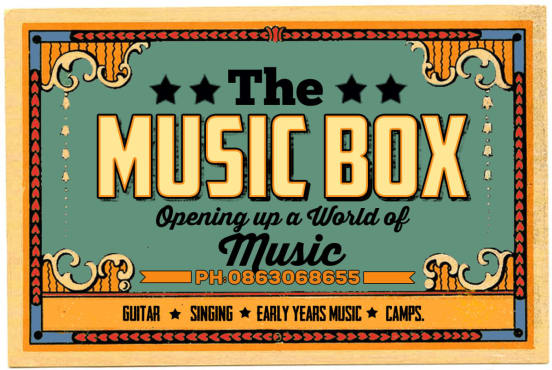 THE MUSIC BOX
Home to Boogie Bugs Music & Movement for babies, early years and preschools, Singing groups, Guitar lessons, Season Camps & Songwriting.
The Music Box is a social enterprise, offering affordable music and pairing it with community projects! It all started with our early year's music & movement class, Boogie Bugs - but as our kids grew - so did we!! Everything we do is very much inspired by classes in the Old Town School of Folk Music in Chicago, and as the class list expanded to include singing groups and guitar lessons & songwriting, the Old Town School continued to be an inspiration with their relaxed teaching methods and performance-driven classes. I've performed in the Sunflower Fest Summer Festival, Stendhal Arts Festival, the Feel Good Fortnight festival. I'm the early year's music facilitator every summer, for the Playhouse Theatre in Derry, and the Donegal Library Services children's arts festival. Days are divided between working in family centres, performing arts facilities & schools throughout the region, and continuing to write music & songs of all kinds, continually improve the Wee Glee Singers, Guitar Academy, Boogie Bugs (and it's little sister class Tiny Stars), Summer Camps & songwriting workshops! As a social enterprise, community work is a regular part of The Music Box, creating and supporting anti-bullying projects locally and beyond, providing affordable music opportunities, running Live and Original Sessions as a support for original works by adults, and working with The Exchange Inishowen. With a background in journalism, I still write occasionally.
Claim Now!
Is this your business?
Claiming listing is the best way to manage and protect your business.
Claim Now!
Contact Information
1 Castle Ave, Ardaravan, Buncrana, Co. Donegal, Ireland