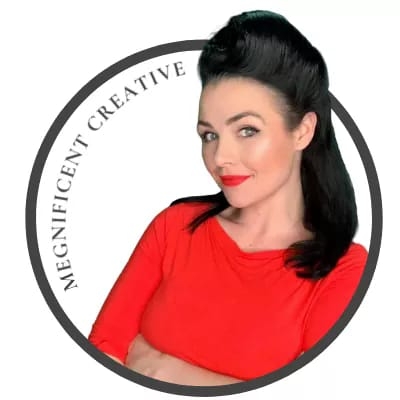 MEGNIFICENT CREATIVE
Hey there, I´m Meg
The owner + designer behind Megnificent Creative a boutique design studio located in South West Donegal, Ireland. I design + illustrate beautiful graphics, visuals, brands and websites for entrepreneurs. I've always been a creator at heart. Since I could hold a pencil or sewing needle in my hand, I was a maker of things. 
For the past 18 years I have been helping people just like you with their creative needs and I look forward to working with you on your design project.
A couple of years ago I opened the virtual doors to Megnificent Creative and my life changed for the better. I pour my heart & soul into everything I create and work hard to ensure all the pieces of your brand help to tell the story of you, your business, & your vision for the future. My aim is to provide a custom boutique experience tailored to your exact needs. I believe in "doing less with more focus" and take on a limited number of clients each month so that I can devote more attention and creative energy to your project, all with a streamlined process and efficient project timeline.
I have helped business owners, entrepreneurs, interior designers, salon owners, photographers and so many others across the globe to elevate their businesses to the next level by creating a unique online home to attract the right followers, clients, and customers. Clients come back to me time and again because they know they can trust me with their brand, and ultimately, their business.
I'm truly blessed to have found a career I love that also provides the flexibility to be creative and balance work and family life beautifully.
Claim Now!
Is this your business?
Claiming listing is the best way to manage and protect your business.
Claim Now!
Contact Information
Aonad 3 Fiontarlann, Ballymoon, Kilcar, Co. Donegal, Ireland