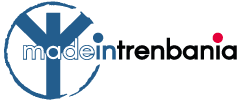 MADE IN TRENBANIA
We work differently. Our passion is your success.
Founders
Made in Trenbania Limited was founded in October 2018 by Andy Smith and Sinéad Smyth. The company grew out of Andy's freelance web design business.
Andy started work on his first website for the conservation charity he worked for in 2001. His boss liked it, which was a good start!
But he also liked it, and he enjoyed the creative process that resulted in a website that could be seen around the world - the whole concept was new to him, but, back then, it was still relatively new to most!
Andy continued to work on the regional website in Northern Ireland. He was also asked to take on the website for the organisation across the whole of the UK, which we still manage on an ongoing basis today. He picked up a few other commissions in his spare time, but, in early 2010, decided to set up his own business - and Made in Trenbania was born.
Sinéad is an artist (and married to Andy) and has been organising, enabling and facilitating arts-related projects for over 20 years. She  has worked on several collaborative arts projects on both sides of the Irish border, including the Turner Prize and City of Culture/Thames Festival 'Rivers of the World' project. She has exhibited in Ireland, Northern Ireland and further afield in Europe.
Sinéad brings her artistic talents and creative mind to Made in Trenbania and helps bolster Andy's website and marketing expertise, as well as guiding his none too shabby design skills. Between them, they make a formidable team!
Claim Now!
Is this your business?
Claiming listing is the best way to manage and protect your business.
Claim Now!
Contact Information
House, Tullanree, Trenbane, Co. Donegal, Ireland