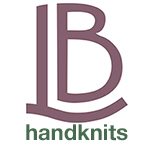 LB HANDKNITS
I am a handknits designer based in County Donegal, Ireland.
A writer, artist, and recovering academic, I was initially taught to knit as a young child. Age 4 seems far-fetched, but it must have been around then as I remember learning to knit and to read at roughly the same time!
Both my mother, and my paternal grandmother, were knitters and from them I picked up a mixture of Eastern and Central European methods, probably best described as 'hybrid continental.' From the start, I was taught to knit in an improvisational manner; there were no patterns or written instructions involved. It was not until I was asked to teach a knitting workshop in 2016, that I actually learned how to read knitting patterns ...And of course, from there, writing them was the next logical step! I was lucky to stumble into my first knitting job at the age of 14. A fashion designer who happened to live in my town tasked me with knitting for her upcoming runway show. She treated me professionally and paid me fairly for the work, making me aware at a young age that knitting was a valued and marketable skill.
As for many, my interest in knitting waned through my teens, then returned in my late 20s. But it wasn't until I moved to Ireland in 2013 that it truly gained momentum. 'Inspired' by the damp and chilly weather of the Emerald Isle, I began to knit constantly, experimenting with yarns and construction methods for an optimal combination of breathability, durability, and moisture resistance.
Claim Now!
Is this your business?
Claiming listing is the best way to manage and protect your business.
Claim Now!