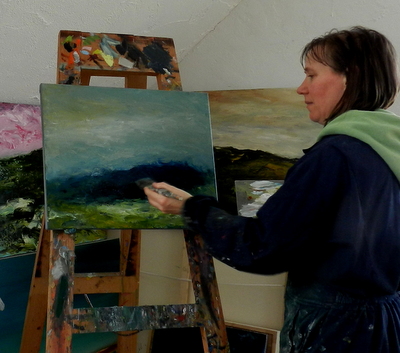 CAITLIN GALLAGHER
Living and working in her home county Donegal, Caitlin Gallagher immerses herself in the wild beauty that surrounds her in this rugged Island terrain. Caitlin studied Fine Art at the University of Ulster in Belfast. On returning to her homeland she has worked tirelessly to capture the mood of this divine landscape. Her development towards a painterly abstraction can now be seen in these richly textured works. Her use of vibrant, earthy colour has the effect of drawing you into the mood and atmosphere of what she attempts to convey. Deserved recognition has come to Catlin by way of numerous awards and prizes. She has exhibited at lontas, the nationally acclaimed small works exhibition. She has picked up several prizes at the Glebe annual show including the coveted ''Derek Hill prize''.Her work has been published in ''The Great Book of Galige'' and she has exhibited in Galway and Belfast. Caitlin's Paintings have found their way into the collection of The Glebe Gallery and Donegal County Council Collection as well as numerous important private collections here and abroad.
Claim Now!
Is this your business?
Claiming listing is the best way to manage and protect your business.
Claim Now!