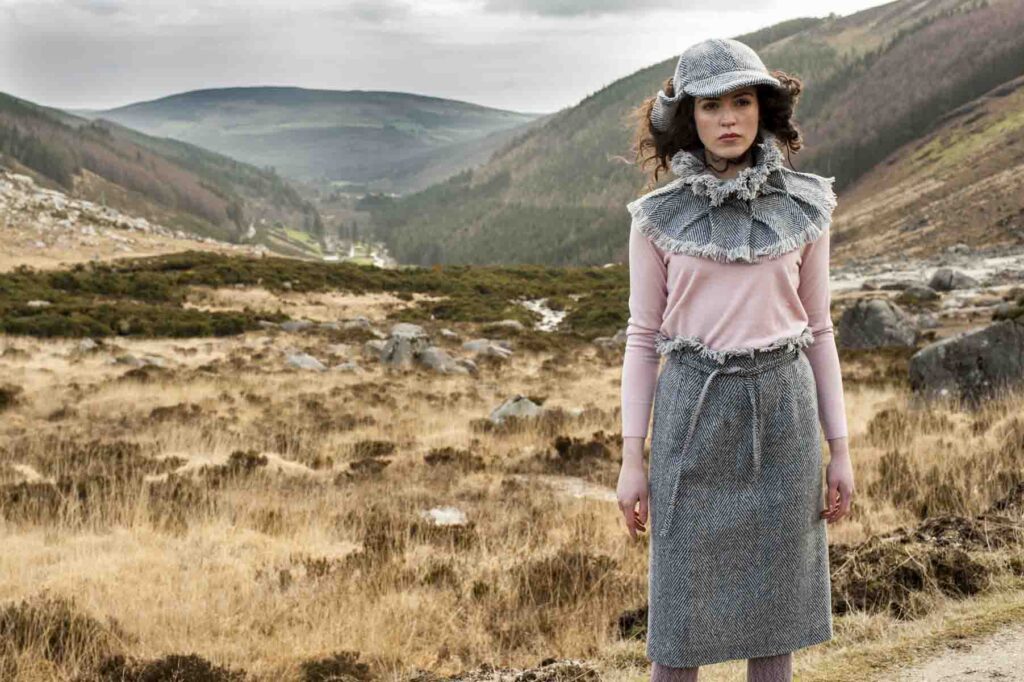 BERNIE MURPHY
The path that has led me to becoming a textile artist in the North West of Ireland was less a choice than an unconscious inevitability.
From an early age I absorbed the lessons of craft and design from my grandmother and my mother, who knitted and sewed and were creative in the home.  These skills were assimilated as part of home life.  On leaving school, the textile manufacturers that then dominated the local industrial landscape offered me and many of my friends our first jobs, and here the skills we had learnt in the home were enhanced through employment.
It was through work that I was encouraged to train in patternmaking and cutting room skills, which I did in Dublin.  Here I perfected the technical skills of a garment technologist which today help me professionally execute my ideas in sculpting fabrics and producing contemporary textile art.
Once I had taken the step from manufacturing into design, new opportunities and challenges opened up before me.  To develop my design skills further I undertook a HNC in Spatial Design, a HND in Fashion and Textile Design at North West Regional College and finally a BA Hons in Fine and Applied Art at Ulster University, which concreted my path as a textile artist.
But I believe that coming from the small traditional seaside town of Buncrana in Donegal has been as much an influence on my creative development as has my family, education and employment history.
Standing on the shores of Donegal, on the Wild Atlantic Way, feels like standing on the edge of the world; there is colour and texture and inspiration wherever you look. This is where I find my greatest inspiration ' where my imagination can feast on the blues and greys of the wild Atlantic ocean, where the fields and hills suggest patchworks, lines and patterns, where the barren lands and peat bogs blend the russets of trees and heather with the neutrals of sheep fleeces and stones… all combine to suggest the structures, colours and textures for my contemporary garment sculptures.
My collections are designed to be worn or to be displayed, but always to be enjoyed.  My aim is to capture in my textile art suggestions of the natural environment that surrounds me ' its unpredictable beauty and spirit ' and reflect elements of the textiles and design skills that have been handed down across the generations in this unique region, my homeland of Donegal.
Claim Now!
Is this your business?
Claiming listing is the best way to manage and protect your business.
Claim Now!
Contact Information
Elmhurst House, Porth, Co. Donegal, Ireland